Hands down, the perfect pouch for purse organization. Our Half Moon Bag is the ideal size for holding small cosmetics or other loose items in your daily tote. It keeps everything where you need it and helps compartmentalize your purse. It also works as a TSA compliant toiletries organizer.
♡ Perfect for organizing your carry-on liquids
♡ Fits 7 to 10 travel size cosmetics or toiletries
♡ Super stylish design
Includes:
✓ 1 Half Moon Bag

Product Details:
• Dimensions - 7" L x 5.5" W x 2.5" H
• Materials - PVC, Vegan Leather, Suede
• Total Weight - 4 Ounces
• Hand Wash
FAQ
Frequently Asked Questions
Make Packing Easy & Fun
Who says packing has to be boring? These fun travel accessories make organizing your suitcase super simple and enjoyable. Find a combo that works for you and start packing!
Welcome to organized packing!
Need a little nudge in the right direction? Get the best packing tips and recommendations below.
Customer Reviews
07/22/2022
Erin M.

United States
Half moon success
This bag fits more than you might think. I have a small moisturizer, little jar of toothpaste, floss, Eucerin (2.7 oz), Neutrogena sunscreen (3 oz), hand lotion (1 oz), toner (1 oz), serum (.5 oz), 3 small jars of face cream (.5 oz each) & mascara
07/25/2022
EzPacking, Inc
Thanks for your feedback, Erin! Happy to hear you're having Half Moon success :)
06/05/2022
Billie C.

United States
Great bags for packing
I love all the sizes and the folding cards really helped to make my husbands and my clothes fit each size. We are leaving Friday for Ireland and wanted to pack as light as possible, the little bags really help and you can see what is in each one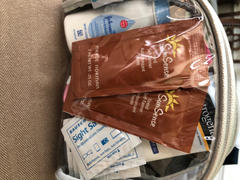 06/07/2022
EzPacking, Inc
Thanks for the support Billie! We're so happy you found us :) Enjoy Ireland!
10/31/2019
Gillian V.

United States
Small but holds a ton!
When I got the bag I was afraid it might be too small but it actually holds a lot. Very well designed, good quality construction.