Say goodbye to flimsy ziplock bags and say hello to our TSA approved clear toiletry bag. It's the perfect travel toiletry bag, it's compact yet packs a lot! And, it makes passing through airport security a breeze.

Packing a carry on soon? Upgrade to the Starter Set, which includes this TSA Approved Cube along with 3 other packing cubes for organizing your clothes. 
♡ Perfect for packing your travel toiletries
♡ Fits 8 to 10 3.4 oz TSA approved bottles
♡ Available in lots of fun colors
Includes:
✓ 1 Extra Small Packing Cube

Product Details:
• Dimensions - 6.25" L  x 6.25" W x 1.5" H
• Total Weight - 2.5 Ounces
• Hand Wash
FAQ
Frequently Asked Questions
Make Packing Easy & Fun
Who says packing has to be boring? These fun cubes make organizing your suitcase super simple and enjoyable. Choose a cube in your favorite color and start packing!
Need help deciding?
Get the best packing tips and recommendations below.
Customer Reviews
Perfect for my travelling needs
I just qualified for TSA PreCheck and I was looking for a way to maximize the liquids I carry in my carry on bag. We are traveling to Mexico alot and only take carry on bags so this will be super helpful. Quality looks very good and I feel like if I have any trouble in the future I can go back to the company and they will make it right.
08/17/2022
Liz Q.

United States
ALL IN THE FAMILY
After using the Extra Small Packing Cube for my carry-on liquids, I sent my "always traveling, international travelers"/family the same item. This cube holds much MORE than a quart sized plastic bag, and you can readily see everything in the cube! For this reason, I also purchased several larger sized packing cubes for a trip overseas, and I'm already loving them. Again, they hold much more than other brands of packing cubes, and the clear plastic lets you get ready for each day's activities without unpacking everything. THANK YOU to my son, who works for an airline, who said he uses EzPacking cubes for his travels. I won't purchase any other brand now that I've found EzPacking!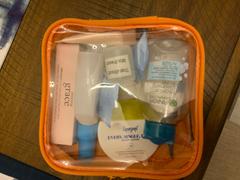 07/28/2022
Lari C.

United States
Perfect!
Easy, convenient, & quality product!
08/02/2022
EzPacking, Inc
Thanks for your feedback Lari! Glad you found us :)
07/05/2022
Amy Z.

United States
06/21/2022
Liz Q.

United States
So awesome, I had to gift some!
On a recent trip visiting family, I asked if they had specific bags for their liquids. Their answer was "ziplock bags". So, since they travel extensively, I polled each of them and ordered each one their favorite color of the Extra Small Packing Cube! They're loving their new bags! Love to share fabulous products, so I thought it was my "duty" to send them these packing cubes.
07/02/2022
EzPacking, Inc
Wow Liz, we appreciate you so much! Thanks for being a true EzPacking fan and spreading the love.
06/03/2022
Karenh02554@gmail.com Hoffmeister

United States
Small and extra small
See previous wherin i reviewed small and extra small. K.H.
05/27/2022
Lori V.

United States
Great small cube
I ordered several extra small cubes for first aid, essential oils and other small items to store in my carry on, car & luggage. Very well made, vibrant colors & quickly shipped & received! EzPacking is a great business.
05/31/2022
EzPacking, Inc
Thank you so much for your kind feedback, Lori! Happy you found us :)
05/07/2022
Wendy A.

United States
Best small cube ever for traveling light. Thanks for sharing your pics
We literally just cleared TSA with our two amazing bags. We're at the airport now-I was waiting to see if all the items we picked cleared. And YES they did and without one hitch. I have 10 items of all sorts of liquids, sprays and toothpaste. My husband has 9 items in his. Tali thanks for making these incredible bags. I will definitely order more in the future for myself and I think they'll make great gifts for any occasion. They definitely hold more items and much sturdier than a flimsy ziplock bag. Also thank you for choosing me as the lucky April winner giveaway. I can't wait to receive my starter package. Woohoo! I am one happy customer .
05/09/2022
EzPacking, Inc
You are so welcome Wendy! We're so happy you found us. Glad you are enjoying using EzPacking in your travels! Thanks for your very kind review.
04/29/2022
Tina M.

United States
Excellent quality & service
Excellent. I was looking for something that would not (or at least reduce) contribute to land fills and the quality seems superior to other brands. The aesthetic is pleasing in person and designed well. Ez Packing also demonstrated a high standard of service integrity when they addressed an error on my part with the order (which I was not expecting.) We'll purchase from them again.
04/11/2022
Meggan O.

United States
Love these cubes!
I bought the extra small cube as well as a few starter sets for an upcoming trip with my family. We have 4 kids and being able to give them a packing cube to pack and use once we got to the hotel has been a game changer! Not to mention has allowed us to travel more efficiently. Nothing like having to grab booster seats out of a filled to the brim suitcase in the car rental parking lot to change the way you are packing. When we arrived at our destination we easily shifted a few packing cubes around and the booster seats were out without clothes being dumped all over the floor! I need more of these!
03/31/2022
Donna R.

United States
Extra Small Cube Is it worth it?
As a travel nanny I searched for extra small cubes to fit into corners of a carryon. I was able to pack a bra and 6 undies in one. I could bring an empty one squashed in a corner to put the worn ones. Better than a laundry bag as we can quickly wash by hand if needed. No searching in bottom of bag! All my make up fit which is great for TSA in a carryon. I also packed 4 pairs of Calf socks and 2 ankle socks. If you get creative it could also hold jewelry baggies or perfect for meds. If traveling with kids, bath items, or small toys that you can quickly grab on a plane ride. No fumbling for toys. It could also hold a diaper and maybe a tshirt/short just "in case" an accident on plane! We always think "big" bit in order to use every available space in carryon, think extra small. With everything in clear plastic you won't have to "guess" what is inside!
01/02/2022
Kristin K.

United States
I bought 2!
It's the perfect size for our carry on and so convenient to use for our toiletries. Well made, quality product. Will definitely get more sizes! Highly recommend.
Sturdy but flexible tsa approved liquid container
Zippered plastic container for liquids when flying. Held everything I needed for an 8 day trip. Very sturdy and held its shape. Flexible enough to adjust to the variety of items placed inside. Zips from the top which allows easy packing of items. Zipper seems secure and well attached have used the container for three trips so far. Easy to pack or carry.
Just what I needed!
I needed something to use to put together a first aid kit. It's really perfect! Small but holds a lot. The case has decent zippers that allow the container to open all the way. The sides are clear so you can see exactly what you need. I do not know if it would pass muster on an airline checkpoint, though. I just use that quart baggie they always tell you to use.
Served it's purpose and then some
It was advertised as a TSA bag, but the tag it came with did not indicate this. So I kept it in case there was an issue. Since I'm TSA precheck, they don't ask me to remove items from my bag. I wanted to be prepared though. It holds alot more than a quart size bag. I'm not sure about durability since I've only used it once so far. It does have a handle - easy to pull out from carry on if necessary.
08/04/2021
AmberRose R.

United States
Good bag
This bag is nice and holds a lot of things but I have noticed it's a tiny bit too big for tsa since it's a bit bigger the a quart size bag