Say goodbye to flimsy ziplock bags and say hello to our TSA approved clear toiletry bag. It's the perfect travel toiletry bag, it's compact yet packs a lot! And, it makes passing through airport security a breeze.

Packing a carry on soon? Upgrade to the Starter Set, which includes this TSA Approved Cube along with 3 other packing cubes for organizing your clothes. 
♡ Perfect for packing your travel toiletries
♡ Fits 8 to 10 3.4 oz TSA approved bottles
♡ Available in lots of fun colors
Includes:
✓ 1 Extra Small Packing Cube

Product Details:
• Dimensions - 6.25" L  x 6.25" W x 1.5" H
• Material - Nylon, PVC, Vinyl
• Total Weight - 2.5 Ounces
• Hand Wash
FAQ
Frequently Asked Questions
Make Packing Easy & Fun
Who says packing has to be boring? These fun cubes make organizing your suitcase super simple and enjoyable. Choose a cube in your favorite color and start packing!
Need help deciding?
Get the best packing tips and recommendations below.
Customer Reviews
So nice!
So nice describes both my cubes and the service I received throughout my purchase. I bought three of these little cubes and am looking forward to using them on my next journey. Service was impeccable from start to finish. The little packs do indeed hold "just that much more" than a ziplock, and items do not appear as smushed. The quality is there as well…which, for the price, did surprise me. I heartily recommend these!
09/08/2022
CHERYL E.

United States
Nice Addition
Holds more than a quart size baggy and it is great not to have to run out and buy a new box every time I travel! Glad I bought it!
09/05/2022
Lorraine G.

United States
Tsa friendly
You can fit so many of your 3oz liquids and sprays in here for flights. It held so much and I had no issues with it during my travels. Just what I needed at the last minute for my trip.
09/01/2022
EzPacking, Inc
Thanks so much for your kind feedback! We're happy this size worked for your travels.
08/23/2022
Lynn G.

United States
Extra Small Cube
I actually am in the process of packing my little cube for my trip now. I think it holds more than I expected and allows me to keep everything well organized. I'm looking forward to using it many times!!!!
09/01/2022
EzPacking, Inc
Thanks for your feedback Lynn! Safe travels :)
08/22/2022
Florencia A.

United States
I
TALI helped me from the beginning with a totally committed attitude, to go to the bottom of the problem. These days it is rare to find people like her. Congratulations
09/01/2022
EzPacking, Inc
Thanks for your kind feedback! Talking to customers is one of our favorite parts :)
Quality product
I bought two for a couple with whom I will traveling and filled with travel size toiletries. They are sturdy and hold quite a bit, more than a quart size Ziplock. We haven't gone through TSA yet, but the other reviews stated that there was no problem getting through security with these items.
09/01/2022
EzPacking, Inc
Safe travels Stephanie! Let us know how TSA went :)
08/17/2022
Gerre M.

United States
Perfect for my travelling needs
I just qualified for TSA PreCheck and I was looking for a way to maximize the liquids I carry in my carry on bag. We are traveling to Mexico alot and only take carry on bags so this will be super helpful. Quality looks very good and I feel like if I have any trouble in the future I can go back to the company and they will make it right.
09/01/2022
EzPacking, Inc
Thanks for your feedback Gerre! We hope all goes well, but let us know if you have any issues at all. Safe travels!
08/17/2022
Liz Q.

United States
ALL IN THE FAMILY
After using the Extra Small Packing Cube for my carry-on liquids, I sent my "always traveling, international travelers"/family the same item. This cube holds much MORE than a quart sized plastic bag, and you can readily see everything in the cube! For this reason, I also purchased several larger sized packing cubes for a trip overseas, and I'm already loving them. Again, they hold much more than other brands of packing cubes, and the clear plastic lets you get ready for each day's activities without unpacking everything. THANK YOU to my son, who works for an airline, who said he uses EzPacking cubes for his travels. I won't purchase any other brand now that I've found EzPacking!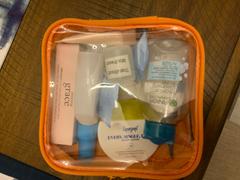 09/01/2022
EzPacking, Inc
Thanks for your kind feedback Liz! Happy you've joined the EzPacking family :)
08/16/2022
Linda C. Sughrue
Deceptively roomy TSA approved toiletry bag
The full zipper that allows you to open the whole bag to utilize all the space is a game changer. I was able to pack all of my toiletries and liquids for a 5 day trip easily and while away I was able to easily access everything in the bag. By far the best liquid carry-on bag I've had.
09/01/2022
EzPacking, Inc
Thanks for your feedback Linda!
Perfect size for traveling
I was able to get a lot of products in this bag. I still have room for more
The perfect TSA approved liquids case
This one is great! It's the TSA approved size, but it holds a lot more than the plastic bag types. You can fit a lot of liquids in here. Last trip I squeezed in travel sized hair spray and mousse, primer, deodorant, chapstick. shampoo, conditioner, toothpaste, eyeglass cleaner, lipstick and several more small items. It's the best one I have used.
Obsessed with this bag!!
This bag is fabulous for your liquids when traveling. It's a wonderful alternative to a quart-sized plastic bag. It holds more, packs easily, is durable, sustainable, easily accessible, and hasn't given me any issues through security lines.
Great bag and lots of room!
Great little bag that I took with me on my first flight! I packed my shampoo, conditioner and body wash in 3oz travel containers, the rest were in smaller containers, and I labeled them. It had so much space I had enough room to fit shampoo, conditioner, body wash, feminine wash, hair frizz gel, moisturizing spray, deodorant and toothpaste. And it fit nicely in my carry on bag with no issues at security.
Good quality
Good quality, look like picture, I got two for my kids. Hope to find this item with a better price.
07/28/2022
Lari C.

United States
Perfect!
Easy, convenient, & quality product!
08/02/2022
EzPacking, Inc
Thanks for your feedback Lari! Glad you found us :)